OK so the very first 5 way head to head "Better Bite" review taste off! Here we go!
Right out of the gates I'm going with a food almost anyone, anywhere should be familiar with (except all you vegetarians perhaps)....BBQ! Not just any BBQ either but my personal favorite, the Tri-Tip. I feel that this cut can in many cases if not all be a barometer measure of any good BBQ joint's quality across the board. No doubt that beef and pork ribs as well as brisket can hold their own because they certainly can. BBQ chicken is a stretch for me if you count that as real BBQ meat. Beef based BBQ is a class all by itself and in m opinion, Tri-Tip remains supreme.
I will note that two of my all time favorite local BBQ spots that also happen to rate very well on Yelp.com and Tripadvisor are not featured here......
Bull's Smokin' BBQ
in Linda Vista and
Kansas City BBQ
in downtown San Diego. The reason being that they simply do not serve Tri-Tip cuts on their menu. As bad as I wanted them both featured here I had to keep with the theme and compare like cuts to like cuts. To do otherwise would be unfair and hard to truly compare on the same scale. That said the 5 venues features are as pictured below.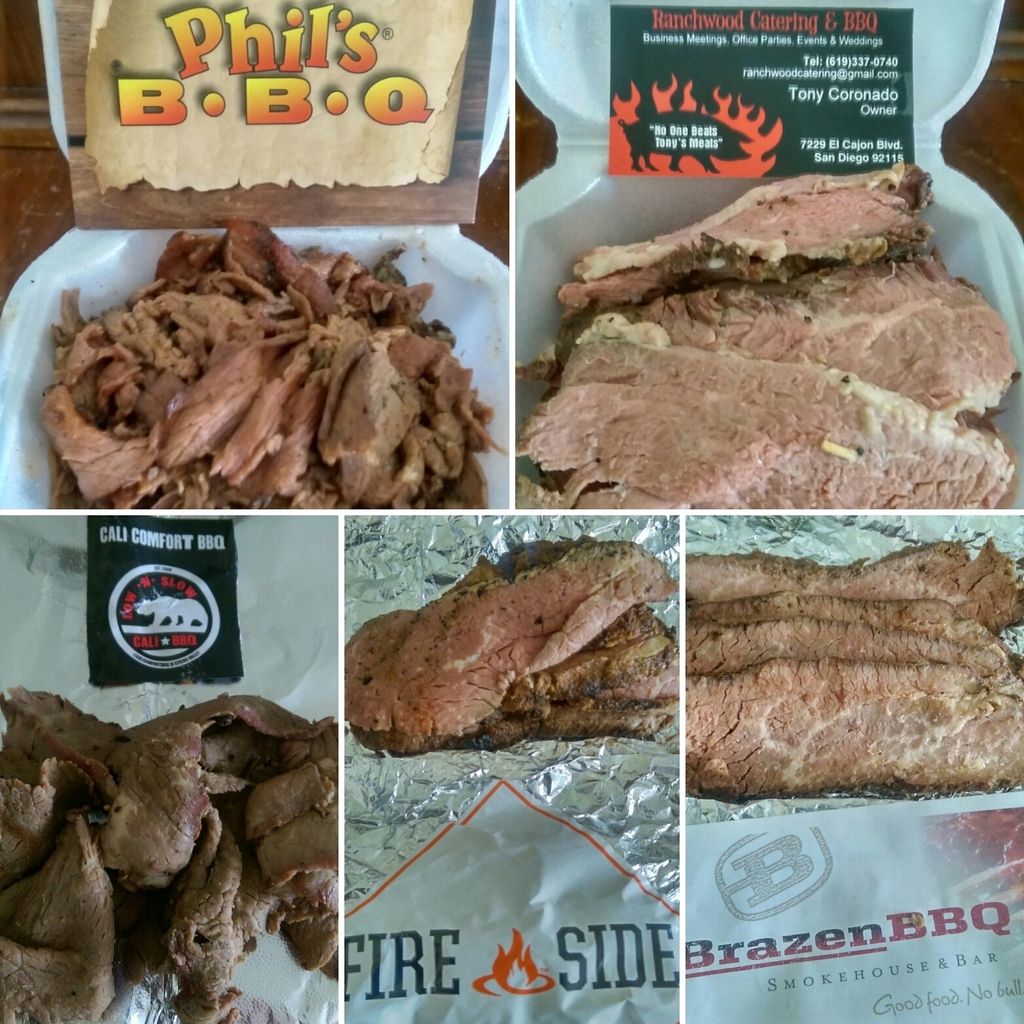 Close up individual shots of each sample: All samples half pound. Price range $9.50-$11.35 tax included.
Scores & Notes (I did not add any sauces to the meats for the sample scores below)*
Notes: A sweet-spice like addition going on without adding any sauce on my part. This was the moistest of them all. The smell was equally as sweet as the flavor. I knew this was gonna be good before even digging in! *Some sauce already included with how their meat is served.
Flavor- 5
Texture- 4.5
Aroma- 5
Appearance- 3.5
Score: 18
Notes: Very strong and flavor enhancing smokiness. Almost a small battle between nose and mouth to try and absorb more of the smokey flavor/smell. Their sauce was the one I liked most for the record.
Flavor- 4
Texture- 5
Aroma- 3
Appearance- 4
Score: 16
Notes: IMO, the best thick cut strip form of them all.As a last minute entry into this review of which I picked up at the Little Italy Farmers Market, this was a wildcard shocker that I had not known of them until now! A great choice for those wanting Tri-Tip flavor they can add their own sauces to.
Flavor- 4
Texture- 5
Aroma- 1
Appearance- 4
Score: 14
Notes: Their claim to fame is the fire grilled meats they have and their Tri-Tip is no different. You can tell on the smell alone something is different about this Tri-Tip. Then your pallet confirms it within a few chews. Sauce they use is the sweetest of them all I shall note. Great for those who like sweet style BBQ.
Flavor- 4
Texture- 4
Aroma- 4
Appearance- 2
Score: 14
Notes: This would make for one amazing sandwich with the BBQ sauce it comes with. Sauce has a very nice sweet-zingy-tang to it that bolster the meat very well. A little went a long way! Meat alone left a bit more to be desired.
Flavor- 3
Texture- 5
Aroma- 2
Appearance- 2
Score: 12